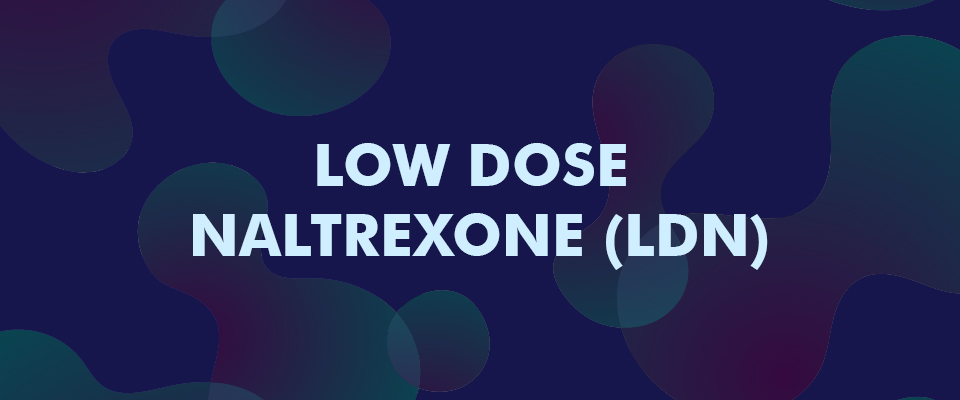 LOW DOSE NALTREXONE (LDN)
What is Low Dose Naltrexone?
    Low Dose Naltrexone (LDN) is emerging as a promising new off-label treatment for management of symptoms from autoimmune diseases, central nervous system disorders, and even certain cancers.
   Naltrexone 50 MG tablet was approved by the FDA for the treatment of opioid addiction by acting as a competitive opioid receptor antagonist and blocking the effects of opioids on the brain. 
     LDN refers to daily doses of Naltrexone that are within 1 to 5 mg–a tenth of the typical FDA-approved treatment dosage.
    Studies have shown that naltrexone exhibits paradoxical properties such as analgesia and anti-inflammatory, or antioxidant effects via upregulation of endogenous opioids at lower doses.
What diseases are impacted by LDN?
• Autoimmune diseases such as Multiple Sclerosis, Rheumatoid Arthritis, Crohn's Disease, Ulcerative Colitis, and Lupus.
• Central Nervous System diseases such as Fibromyalgia, Parkinson's Disease, Alzheimer's Disease, Chronic Fatigue Syndrome
• HIV/AIDS
• Certain Cancers
Dosing:
• Dosing is typically between 1.5 mg to 5 mg capsules by mouth every evening between 9pm to 3 am.2 This causes a brief blockade of opioid receptors between 2 am and 4 am, which in turn produces endorphin production and up-regulation of the immune system.2
• LDN should NOT be compounded in the SR
(slow-release) form as it can cause a spike in the bloodstream and inhibit its therapeutic effects. Immediate Release (IR) formulation only.1
• Avicel is the preferred filler.
Side Effects:
One of the most exciting aspects of LDN is the
low reported incidence of adverse side effects.1 Studies have shown no withdrawal symptoms when treatment is stopped due to its low dosage.2 In some cases, patients may report vivid dreams, nausea, or headaches. However, these decrease over time or dosage can be decreased if needed.
• Because LDN blocks opioid receptors, patients should not be on any opioid agonists such as narcotic and controlled pain medications.
• Allow at least a seven-day washout between an opioid and starting naltrexone to prevent withdrawal.3
• Full-dose naltrexone (50mg) carries a cautionary warning against its use in those with liver disease. This warning was placed because of adverse liver effects that were found in experiments involving 300mg dose daily. The smaller doses do not apparently produce impairment of liver function.2
• Patients who have received organ transplants or are on immunosuppressive medications are cautioned against use of LDN since it may counteract the effect of those medications.
15 min consultation to prescribe

LDN – Low
D
ose Naltrexone

Prescription for 6 months